Planned "A" litter - spring 2013
I spent over half a year on selecting the suitable breeding dog and in spite of the intensive search lasting for several months I was not ready to give up the many criteria, I had set for the dog, so easy. When selecting the dog, I focused on the health status, balanced appearance with head with nice expression, medium height, which is presently more and more shifting to the upper limit of the standard and last but not least on the character. And all this across several generations! Even though I was not limited by the location and I searched basically the entire Europe, only one dog met my criteria, namely Mambo.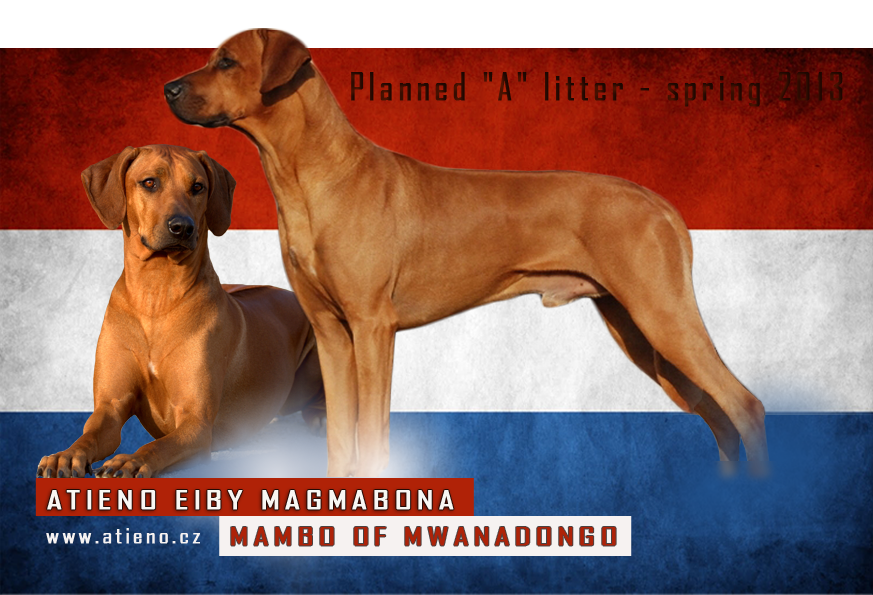 Atieno Eiby Magmabona
Mambo of Mwanadongo



Born 14.4.2009

Born 1. 6. 2007

Mother: Aliss Brassila Zulaykha
Mother: Thombi Akiki of Mwanadogno
Father: Rachral Abayomi Hintza
Father: Jumanne v.h.Maasjesfles

color red wheaten

color red wheaten

full dention, correct scissor bite

full dention, correct scissor bite

height 65 cm, weight 38 kg

height 68cm, weight 42 kg

HD-A1, OCD-frei

HD-A1, OCD-frei, ED-frei

Degenerative Myelopathie - N/N

Degenerative Myelopathie - N/N

Test T4 – TSH normal

Blue dilute D/D

Test Herpes virus

Test DNA




European Champion 2011

Poland Champion




Nederlands Champion

Czech Champion

International Champion

1nd place Best dog of group FCI VI.

Winner 2010

1nd place Best bitch PL 2012

TOPDOG RRCN 2010

Regional winner
Charakter test (2011)
German Champion (VDH)
Belgian Champion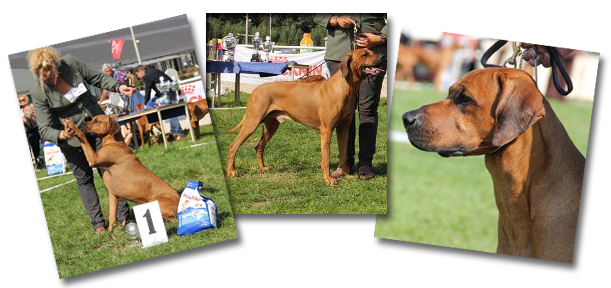 MAMBO
---
Mambo is a well proportioned dog, with typical male head with beautiful face expression and dark eyes. He has a perfect upper and lower line and very good chest depth. Mambo lives with his family in the Netherlands; he is a family dog growing up with children and it is his balanced character that is his strong point.
Mambo is very successful in dog shows; one of his recent greatest successes include the participation in the Euro Dog Show where he was qualified to the World Champion Dog Show and he was awarded the title of "European Champion 2011" by Greg Eva, a judge from the Republic of South Africa.
Presently Mambo has 7 litters, 5 in the Netherlands and 2 in Germany; this will be his first time to be used in breeding in the Czech Republic. All Mambo's litters are well balanced and except for minor deviations from the standard all puppies are standard.
Mambo comes from a litter of 9 puppies, where all the puppies are standard.

Thombi, Mambo's mother, is a harmonic bitch of medium height with a very nice head. Thombi has delivered 3 litters so far; 38 puppies in total. 35 puppies were standard; 3 puppies had a deviation in crows on the ridge. Thombi's puppies were never diagnosed with dysplasia, they all poses a ridge, good exterior and perfect character. Such wonderful litters – which are the dream of each and every breeder - are probably the result of the fact that Thombi comes from a litter of 15 puppies, where 14 of them were standard. Neither Thombi's brothers nor sisters were diagnosed with dysplasia or with any other conditions. According to the Thombi's owner, she has a conflict-free character, which can be without exaggeration compared to the character of a labrador. Thombi likes children, is open and happy. She a big food-lover, she can even open the fridge herself and she loves watching TV.
Mambo's father is the renowned Jumanne van het Maasjesfles. His advantages for our breeding comprise mainly the beautiful hair colour, nice face expression, and last but not least his height. He has had 14 litters in Germany, Sweden and Switzerland so far. His sons and daughters are very successful and also healthy; they do not suffer from allergies, epilepsy or any other diseases.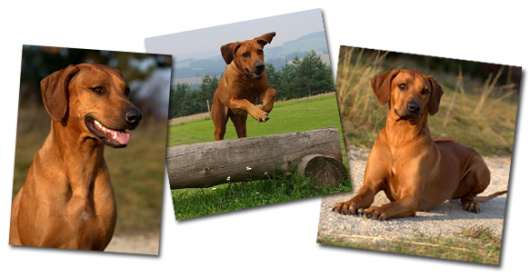 EIBY
---
Eiby is and excellent, healthy and well-proportioned bitch with friendly character. Her strong points include the elegant head with female face expression, beautiful dark eyes and nice neck line. Eiby has correct long format, excellent chest depth, well-angled legs, spacious movement and good hair.
Her character is balanced, she is forthcoming and gets along with other dogs really well; however, as a good ridgeback, she is reserved towards strangers. At home, she is calm and searches company; outside, she is buoyant and full of temperament. Eiby loves long walks with her friends above everything, where she is ready to take part in each and every mischief and she likes to take it easy in sun shine.
Eiby comes from a litter of 10 puppies; 8 of them were standard. 4 other siblings are certified for breeding and six puppies of this litter have x-rayed hips and elbows.
Hintza, Eiby´s father, is the breed representative of an excellent quality. He is a ridgeback of an excellent type with a very harmonic appearance. He has got an outstanding head with correct carriage and a strong neck of a fine length. He has got excellent chest and good depth of chest. Also an excellent top and bottom line. Hindquarters are of an excellent angulation. Powerful rear part of the body is well used during the movement. From his movement radiates balance, strength and persistence. Hintza is healthy, strong ridgeback in an excellent condition.
Hintza is very open, full of life, curious and always alert. He is absolutely fearless, bold dog without any trace of aggression. He is self-confident, he has good temperament and hunting qualities. It is great to work with him because his body language is very comprehensible. Hintza is a typical working class representative and his owner is rightly proud of him. He is very successful at exhibitions in Europe. Judges such as Sue Campbell and Sam Wallace were fascinated by his type and temperament.
Brassila is an excellent healthy bitch of harmonic proportions. She has got a nice head and elegant neckline. She has got a fine bottom as well as upper part of the body, large deep chest and very elegant movement.
Brassila is of well-balanced character and she has never shown any trace of aggression. She is very accommodating and easy-going to others. Brassila can be an elegant lady as well as an impish scamp, an affectionate little girl as well as a stubborn hunter - that is exactly what Brassila is like.
---
I believe I did my best to select the right breeding dog and now it is in hands of Mother Nature.
I would like to thank to Brigitte who let Mambo participate in my breeder's plans and to Mrs. Eva Dufková who helped me patiently with the search all those months.